THIS PAGE LISTS INTERNATIONALLY RENOWNED BARBADIAN PERSONALITIES WHO I BELIEVE ARE WORTHY OF BEING IN A HALL OF FAME. THEY APPEAR IN ORDER OF IMPORTANCE.

Rihanna (Robyn R Fenty) - Grammy Award Winner; Singer;R&B/Pop Queen.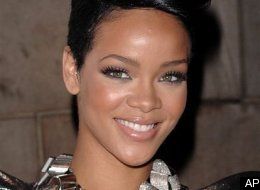 Robyn Rihanna Fenty (born February 20, 1988), better known as simply Rihanna, is a BarbadianR&B recording artist and songwriter.[3] Born in Saint Michael, Barbados, Rihanna moved to the United States at the age of 16 to pursue a recording career under the guidance of record producer Evan Rogers. She subsequently signed a contract with Def Jam Recordings after auditioning for then-label head Jay-Z
.
In 2005, Rihanna released her debut studio album, Music of the Sun, which peaked in the top ten of the Billboard 200 chart and features the Billboard Hot 100 hit single "Pon de Replay." Less than a year later, she released her second studio album, A Girl Like Me (2006), which peaked within the top five of the Billboard albums chart, and produced her first US number one single, "SOS", as well as the top 10 singles "Unfaithful" and "Break It Off". Rihanna's third studio album, Good Girl Gone Bad (2007), which peaked at number two on the Billboard 200, featured five top ten hits including three US number one hit singles—"Umbrella", "Take a Bow" and "Disturbia"—and the worldwide hit "Don't Stop the Music". The album was nominated for nine Grammy Awards, winning Best Rap/Sung Collaboration for "Umbrella," which features Jay-Z.[5][6] Her fourth studio album, Rated R, was released in November 2009 and peaked at number four on the Billboard 200. Its first three singles, "Russian Roulette", "Hard" and "Rude Boy" peaked within the top ten of the Billboard Hot 100, while "Rude Boy" peaked at number one. Loud, Rihanna's fifth studio album, was released in November 2010, spawning the US and UK number one singles, "Only Girl (In the World)" and "What's My Name?" and the international hit "S&M".
Rihanna has sales of more than 26 million albums and 46 million singles, Making her one of the Best selling music artists of all time. She has achieved ten number-one singles on the Billboard Hot 100 since first appearing on the chart on June 11, 2005, which is the most by any artist during that time span. As of March 18, 2011, Rihanna has sold approximately 6 million album units and over 28 million digital singles in the US. She has sold over 10 million records in the UK.[ Billboard named Rihanna the Digital Songs Artist of the 2000s decade. Rihanna has also amassed over a billion views on YouTube, becoming only the fourth artist to do so. She has received several accolades, including the 2007 World Music Awards for World's Best-Selling Pop Female Artist and Female Entertainer of the Year, and the 2011 Brit Award for Best International Female Solo Artist. She has also amassed a total of four Grammy Awards, four American Music Awards, and fifteen Billboard Music Awards. She serves as one of Barbados's honorary cultural

Patrick Husbands
- International jockey; multiple Canadian champion.
Patrick Husbands (born May 22, 1973, in Bridgetown, Barbados) is a Barbadianjockey in Thoroughbred horse racing. The son of a jockey, he began riding as a young boy, turning professional in his home country where he rode successfully until emigrating to Toronto, Ontario in 1994.
Racing out of Woodbine Racetrack, in 2003 Husbands won the Canadian Triple Crown aboard the colt Wando and that year became his breakout year. Among his other notable wins, he rode Numerous Times to victory in the $1 million 2001 Woodbine Mile and Exciting Story in that same year's Metropolitan Handicap at Belmont Park in New York. He rode Arch Hall to three straight wins between 2004 and 2006 in the Sir Barton Stakes. In 2007, he was the regular rider on Canadian Horse of the Year, Sealy Hill.
Patrick Husbands was voted the Sovereign Award for Outstanding Jockey a then unprecedented four straight years between 1999 and 2002. He made his first Kentucky Derby appearance in 2006 riding Seaside Retreat for trainerMark Casse. In 2008 he won his fifth riding title at Woodbine Racetrack and was voted the Sovereign Award for Outstanding Jockey for a record-tying sixth time.
On October 4, 2009 Patrick Husbands earned his 2,000th career victory at Woodbine Racetrack.
Husbands makes his home in Brampton, Ontario. He has two brothers, Simon Husbands and apprentice Terry Husbands who are also jockeys.

Gary (Garfield) Sobers- World's greatest cricket all-rounder. Sir Garfield St Aubrun Sobers (born 28 July 1936 in Bridgetown, Barbados) is a former cricketer who captained West Indies. His first name of Garfield is variously abbreviated as Gary or Garry. He is widely regarded as one of cricket's greatest ever all-rounders, having excelled at all the essential skills of batting, bowling and fielding. He was knighted by Queen Elizabeth II in 1975 for his services to cricket. He became a dual Barbadian-Australian citizen through marriage in 1980. For years he held the record for the highet test score, 365 not out. He also was the first batsman to hit 6 sixes in an over.He is a National Hero of Barbados.

Ronald 'Suki'King

World's draughts champion.Ronald "Suki" King' (born 1956) is a checkers/draughts player from Saint George, Barbados. He has won United States titles and twelve World Championship Titles at the game and is considered one of the strongest players of the game. He has been honored by his homeland being named Barbados's Sportsman of the Year in both 1991 and 1992. He also made it into Guinness World Records in 1998 for playing against 385 players simultaneously and beating them all. He has been called the
Muhammad Ali of the checkers world for his "trash-talking."World Championship titles
3 time world champion (Three-move): 1994, 1996, 1997

9 time world champion (GAYP, go as you please): 1991, 1992, 1996, 1998, 2000, 2003, 2006, 2006, 2008
Austin 'Tom' Clarke -
author; Giller Prize Winner.Austin Ardinel Chesterfield ("Tom") Clarke, author, was born in Barbados on 26 July 1934. His parents were Kenneth Trotman and Gladys Irene Clarke. His mother later married F.H. Luke. Clarke immigrated to Canada in 1956 and attended Trinity College at the University of Toronto for a short time. His interest in writing began early in life, and in the 1960s his short stories began to be published in Canadian and other periodicals. Clarke's stories and novels primarily centre around the plight of the immigrant West Indian in Canada, although his first two novels, The Survivors of the Crossing and Amongst Thistles and Thorns, take place in Barbados. He was a member of The Immigration and Refugee Board from 1983 to 1993; he also held a position with The Ontario Film Review Board from 1984 to 1987. Clarke was the inaugural recipient of The Rogers Communications Writers' Trust Fiction Prize for his semi-autobiographical novel The Origin of Waves, published in 1997. His 2002 novel, The Polished Hoe, won the Trillium, Giller and Commonwealth prizes. The author currently resides in Toronto, Ont. For further biographical material, please consult McMaster University's Library Research News (6, no. 1, Spring 1982) and Stella Algoo-Baksh, Austin C. Clarke: A Biography. (Toronto: ECW Press, 1994).




Ryan Brathwaite - World's #1 hurdler 2009. Ryan Brathwaite (born June 6, 1988) is a track and fieldathlete from Barbados who won the gold medal in the 110 metres hurdles at the 2009 World Championships in Athletics in Berlin. In recognition of his achievements, on September 17, 2009 Brathwaite was given the honour of being an ambassador while formally receiving the title Ambassador, His Excellency Ryan Brathwaite.


Obadale Thompson-

Olympic bronze medalist, 100 metres.
Obadele Thompson (born March 30, 1976) is a sprintathlete from Barbados;. In 2000, he became the first Olympic medalist from Barbados with a bronze medal in the 100m race.

BRIAN TALMA



Barbadian windsurfer Brian Talma

is one of the best in the world, and has been attracting plenty of international attention both for his sport and his country.
Brian is so popular on the competition circuit where he has already won international fame. In Europe he is virtually a household name, greeted by crowds of fans at airports. Ria Fuggenthaler, veteran windsurfer and manager of a windsurf club in Barbados, knows Brian's charisma well. "Visitors come here to the shop and whisper almost in awe, 'Do you know Brian Talma?' He's like a hero to them, especially in Europe." At a tourism show in Munich last summer, she watched as "girls from all over flocked around him for autographs."
PBA Representative Philippe Charron, who sees Brian at the competitions, tries to pin down his one-of-a-kind allure. "Brian is unique. He's one of the most relaxed competitors on the tour and he is respected by everyone because of his attitude, professionalism and quality of sailing. There's only one Brian Talma; no one else is like him."
As the Caribbean's highest-ranking professional windsurfer (17th in the world), he has turned a carefree beach-based lifestyle into a lucrative career.
Brian competes on the hectic year-round PBA world tour, tirelessly promoting his sport, his homeland and the sponsors who make his travels possible. He's been featured in virtually every windsurf magazine the world over, and his compelling smile has often adorned their covers. He's a seasoned TV performer – MTV-Sports, ESPN, Euro Sports, Canada's TSN. Last year, for his high-powered promotion of windsurfing and Barbados, he became the youngest person to receive the Barbados Service Star, a national honour bestowed on those who have made a significant contribution to the country. He was 29.
Between fast-paced competitions and media projects, Brian manages himself, runs his own windsurf shop – and is now a published poet. And he does all this in the face of a severe learning disability, which has made the road that much rougher for him than it would have been for anyone else.
At 18, Brian attended a special school for dyslexia in New York. He later went on to college, graduating with a BA in business administration. "My business background is one of my greatest strengths now. When I go into offices many people drop their guard, thinking 'this fellow's an idiot'. But I have a clear concept of what I want and I know what can be done."

Brian has windsurfed it around Barbados four or five times.